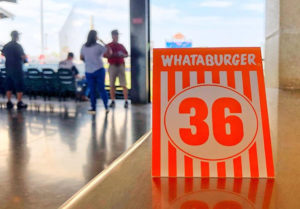 Nashville might soon be home to Tennessee's only Whataburger fast food joint…that is, if the voices of the growing WWW (We Want Whataburger) campaign are heard. 
Music City hasn't seen the glorious burger joint since the first Briley was our mayor. Now the former A-framed orange-and-white-striped-roofed building on Nolensville Road across from Danver's is nothing more than a tire repair shop.
One brave soul is now hoping to change that and bring the glorious W back to town. 
According to Micah Johnson's campaign; 
"I'm asking my fellow Nashville people to sign this petition to further expand Whataburger Awareness for Nashville. Nashville hot chicken is definitely a great thing. But there is plenty of room for Whataburger spicy ketchup.
This plea has been brought to you by Nashville Whataburger Awareness and the triple W "We Want Whataburger" campaign."
The campaign currently 844 out of their 1,000 signature goal. 
Click here to sign the campaign and bring Nashville one (maybe) step closer to getting a Whataburger.